This is my take on the June Cyber Crop challenge at
Top50.
the Theme of the Cyber Crop is "Tiaras & Crowns". This is challenge number 1.
Here is the criteria posted by Vicky (Scappygurl):
OK ladies we all have that drama king or queen in our lives and well this layout is all about them, paper or digital is up to you. How you wish to decorate is entirely up to you...but I do want to put two stimpulations on the challenge...
* You use colours you would not necessary use...purple, lime, and red...you do not have to use all colours, just one, or two, or even the three if you so desire...
* And this is the challenge where you are required to use the FREE GIFT of the Crowns. You must use one crown, two if you want, there will be another chance with a later challenge to use another one!
Queen Jenna waits patiently for her prince to save her. She has dropped her long platt of hair down the side of the castle so her princess can climb up alas she does not realise her prince is a frog
I have covered all criteria for this challenge: I used mainly Lime and purple cardstock, all cardstock hand cut and I used the princess crown for Queen Jenna. I used texture paste on the clouds and painted with a mixture of Jo Sonya pacific blue and tit white. Hand platted the yellow wool hair. I hope you like!
and some close ups:
and
I got my inspiration from Tracy's (my2angels) fabulous take on the challenge...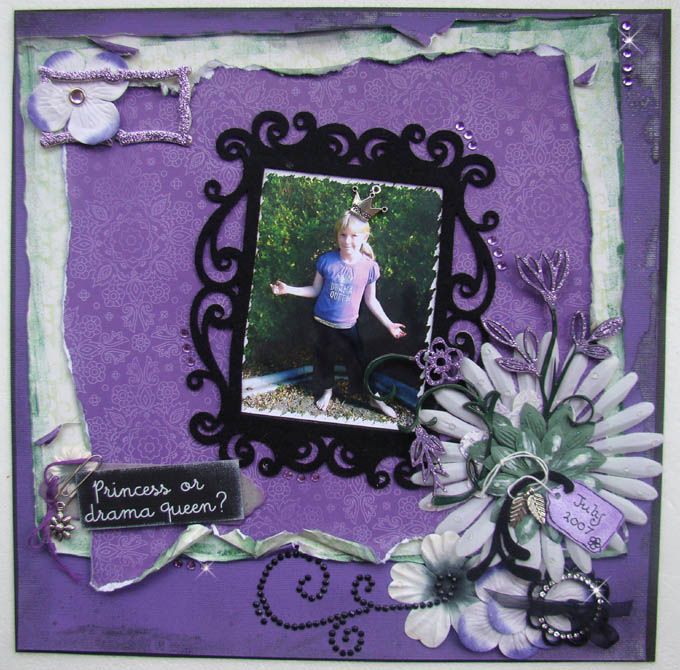 Thanks for looking
Shazza