This is my take on Septembers Color challenge at
Ready, Set, Scrap
set by Lexie.
For this month's Colour challenge Lexie
would like to see a LO in:
Shades of Browns and Creams
You must have 2 or more photos on your LO ,which must be cut out
You can use as many embellishments as you like
My entry for the Sept Color Challenge set by Lexie.
Have used shades of browns and creams, and three photos of my gorgeous leopard, sorry I mean Bengal called 'Kimba"
I have used heaps of embellishments as per criteria in my jungle garden!
The Journalling on the brown tag says:
Resume Check List - Hunts, Prowls, Runs fast, Climbs and Loves Shazza
and a close up

Here's Lexie's Example: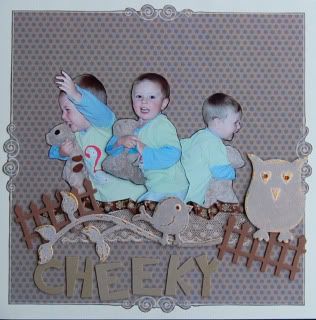 Take care
Shazza